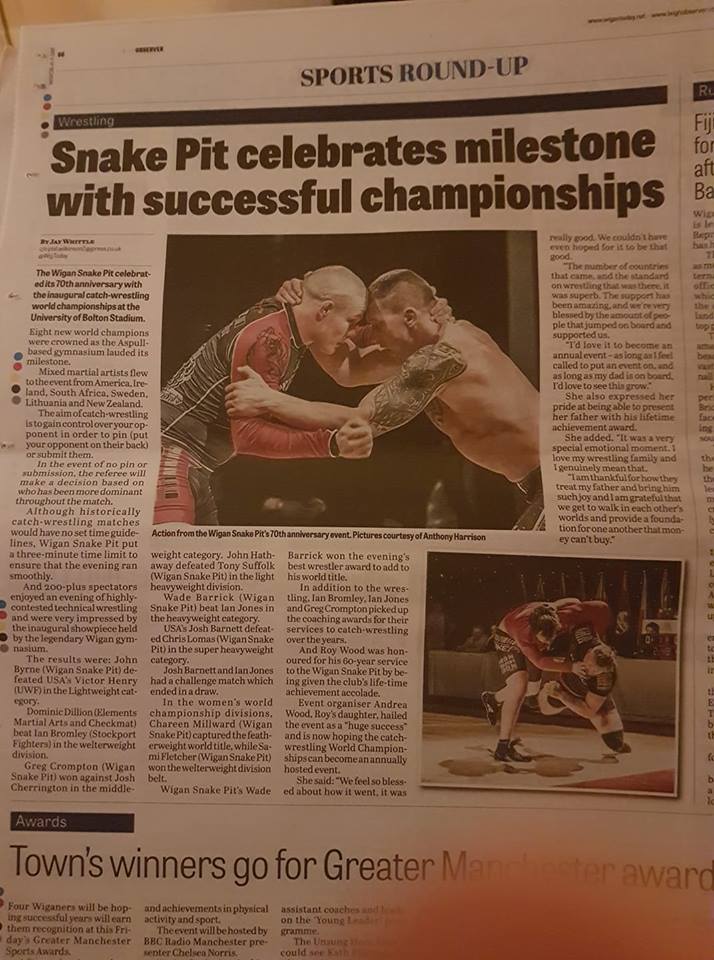 The Wigan Snake Pit celebrated its 70th anniversary with the inaugural catch-wrestling world championships at the University of Bolton Stadium.
Eight new world champions were crowned as the Aspull-based gymnasium lauded its milestone. Mixed martial artists flew to the event from America, Ireland, South Africa, Sweden, Lithuania and New Zealand. The aim of catch-wrestling is to gain control over your opponent in order to pin (put your opponent on their back) or submit them. In the event of no pin or submission, the referee will make a decision based on who has been more dominant throughout the match.
Although historically catch-wrestling matches would have no set time guidelines, Wigan Snake Pit put a five-minute time limit to ensure that the evening ran smoothly. And 200-plus spectators enjoyed an evening of highly-contested technical wrestling and was very impressed by the inaugural showpiece held by the legendary Wigan gymnasium.
The results were:
John Byrne (Wigan Snake Pit) defeated USA's Victor Henry (UWF) in the Lightweight category.
Dominic Dillion (Elements Martkal Arts and Checkmat) beat Ian Bromley (Stockport Fighters) in the welterweight division.
Greg Crompton (Wigan Snake Pit) won against Josh Cherrington in the middleweight category. John Hathaway defeated Tony Suffolk (Wigan Snake Pit) in the light heavyweight division.
Wade Barrick (Wigan Snake Pit) beat Ian Jones in the heavyweight category.
USA's Josh Barnett defeated Chris Lomas (Wigan Snake Pit) in the super heavyweight category.
Josh Barnett and Ian Jones had a challenge match which ended in a draw.
In the women's world championship divisions, Chareen Millward (Wigan Snake Pit) captured the featherweight world title, while Sami Fletcher (Wigan Snake Pit) won the welterweight division belt.
Wigan Snake Pit's Wade Barrick won the evening's best wrestler award to add to his world title.
In addition to the wrestling, Ian Bromley, Ian Jones and Greg Crompton picked up the coaching awards for their services to catch-wrestling over the years. And Roy Wood was honoured for his 60-year service to the Wigan Snake Pit by being given the club's life-time achievement accolade.
Event organiser Andrea Wood, Roy's daughter, hailed the event as a "huge success" and is now hoping that the catch-wrestling World Championships can become an annually hosted event. She said: "We feel so blessed about how it went, it was really good. We couldn't have even hoped for it to be that good. "The number of countries that came, and the standard on wrestling that was there, it was superb. The support has been amazing, and we're very blessed by the amount of people that jumped on board and supported us. "I'd love it to become an annual event – as long as I feel called to put an event on, and as long as my dad is on board, I'd love to see this grow." She also expressed her pride at being able to present her father with his lifetime achievement award. She added. "It was a very special emotional moment. I love my wrestling family and I genuinely mean that.  "I am thankful for how they treat my father and bring him such joy and I am grateful that we get to walk in each other's worlds and provide a foundation for one another that money can't buy."
Wigan Today 15th Nov 2108 Pic Wigan Observer Nov 2018
---